Magic Mike's Matt Bomer Talks About Being Out as Gay: What Brought Him to Tears?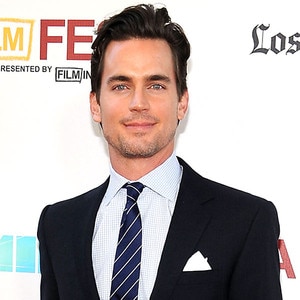 Matt Bomer doesn't like talking about his private life.
And even if the White Collar star did publicly aknowledge he was gay earlier this year, he's not about to start spilling anytime soon.
"I never really endeavored to hide anything," Bomer, 34, told me this weekend while promoting his new movie, Magic Mike. "But there were times I chose not to relegate my history to the back page of a magazine, which to me is sort of akin to putting your biography on a bathroom wall."
Not that he dismisses the importance of being an out actor.
"I had somebody from the military approach me a few weeks ago just saying how this helps people, affects people," Bomer said. "It brought me to tears."
I go so far as to suggest that he could be saving young gay people's lives. "I hope so," he said. "They need saving, certainly in this day and age as much as ever—no matter how much we think we've progressed."
His coming out was as subtle as they come. Bomer simply thanked his longtime partner, Hollywood publicist Simon Halls, and their three children, Kit, Walker and Henry, when he was honored by the Desert AIDS Fund in Palm Springs in February.
"What we really have to do is stop the adjective before the job title—whether it's 'black actor,' a 'gay actor' or 'anything actor,'" Bomer said. "Everybody thinks that equality comes from identifying people, and that's not where equality comes from. Equality comes from treating everybody the same regardless of who they are. I hope the media and the press catches on to that because it's time to move out of 1992." more…